Blaire Bakes
Through Rashad Rastam, I came across Blaire Monroe on Instagram. Her most recent post included a screenshot of a playlist titled André 3000's Quick Lil' Apple Pie which immediately caught my attention.
Originally I figured that the name of the playlist was a play on one of André's lyrics, but to my surprise it is a direct reference to André's "Quick Lil' Apple Pie" recipe that he shared on Instagram as part of the #PassItDown campaign with Meals On Wheels Atlanta.
Here's a look at André's recipe: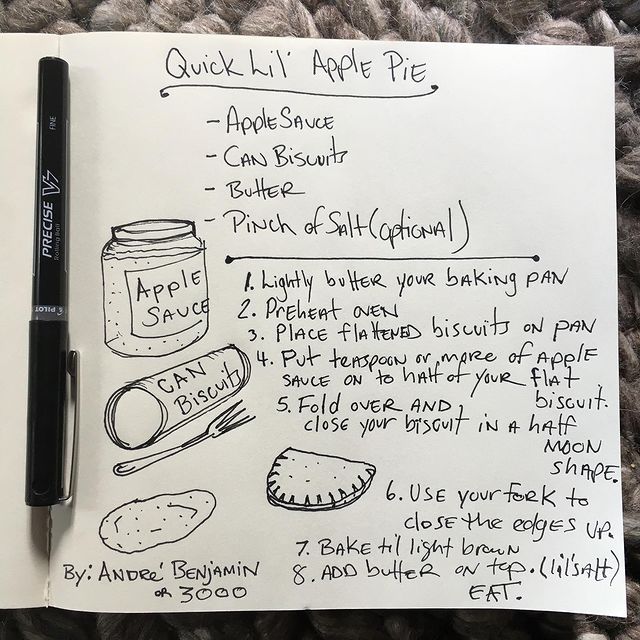 In an effort to blend two of her passions, Blaire is starting to share some of her favorite dessert recipes paired with complementary playlists. The project kicked off with André's "Quick Lil' Apple Pie", and now includes a Crème Brûlée and a Vegan Chocolate Pie.
You can find all of these on Blaire's Instagram: @dare2bake_.
---
Ahmad Jamal
I've been listening to a lot more jazz lately, More specifically, jazz piano. And even more specifically, Erroll Garner and Ahmad Jamal.
Just between these two artists, there is a ton of material. I'm going to link a variety of works below that you can dive into and see where else they lead you.
---
Tiny Spys
I'll be honest, half of the time I don't know how I come across new bands. Tiny Spys have 48 monthly listeners on Spotify, and now I guess I'm one of them? Their Instagram bio even reads "You[r] favorite psychedelic rock band you don't know yet."
Any way, check out this album. I dig it.